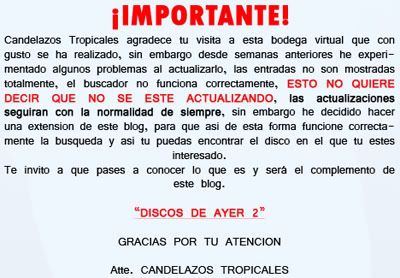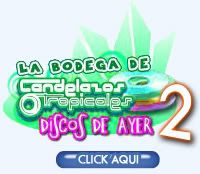 http://discosdeayer2.blogspot.com
------------------------------------------------
¡IMPORTANT!
I'm grateful for your visit to this virtual warehouse but since some weeks ago, we have experimented some troubles at the upgrade moment,the entries didn't appears totally, the searching tool doesn't work correctly,

IT DOESN'T MEAN THAT "DISCOS DE AYER" ARE NOT UPGRADE, DAY A DAY, in fact all the upgrades will be like until now, with all normality,

for that reazon I decide to make a second blog that will be a complement of "DISCOS DE AYER", with this COMPLEMENT, you will use the searching tool to find your favorite record.
I invite you to know the blog that will be the second part,... the complement, of DISCOS DE AYER...
"DISCOS DE AYER 2"
THANK YOU FOR YOUR ATTENTION
CANDELAZOS TROPICALES.